ChromeMate: Multivitamin & Appetite Suppressant 
ChromeMate: Multivitamin & Appetite Suppressant (30-Day)
Product Description
Specially formulated for use with the Official HCG Diet Protocol!
Our ingredients provide a blend of energy support from a Vitamin B complex built right into every capsule.
Also, to further increase energy, quicken perception, and increase endurance we include Guarana, known best on the market as "the natural caffeine", to boost energy while on the HCG diet. Guarana is also said to be a natural aphrodisiac.
We also include the patented trademark ingredient ChromeMate™.  ChromeMate™ is an oxygen-based Niacin-Bound Chromium complex.
1250mg Multivitamin & Appetite Suppressant
Clinically Validated Ingredients
Formulated to Ensure Maximum Energy
Formulated to Support Appetite Suppression and Further Assist Fat Assimilation
Quickens Perceptions
Helps with Endurance Based Activities
Helps Recovery from Hangover
Promotes Normal Insulin Function
Promotes Normal Cholesterol Levels
Promotes Lean Body Mass
Promotes Healthy Blood Sugar Levels
Promotes Cardiovascular Health
Promotes Healthy Weight Management
Active Ingredients:

Vitamin A
Thiamine
Vitamin B2
Niacin
Vitamin B6
Biotin
Glucomannan Powder
Guarana
ChromeMate™
ChromeMate: Multivitamin & Appetite Suppressant (30-Day)
Contents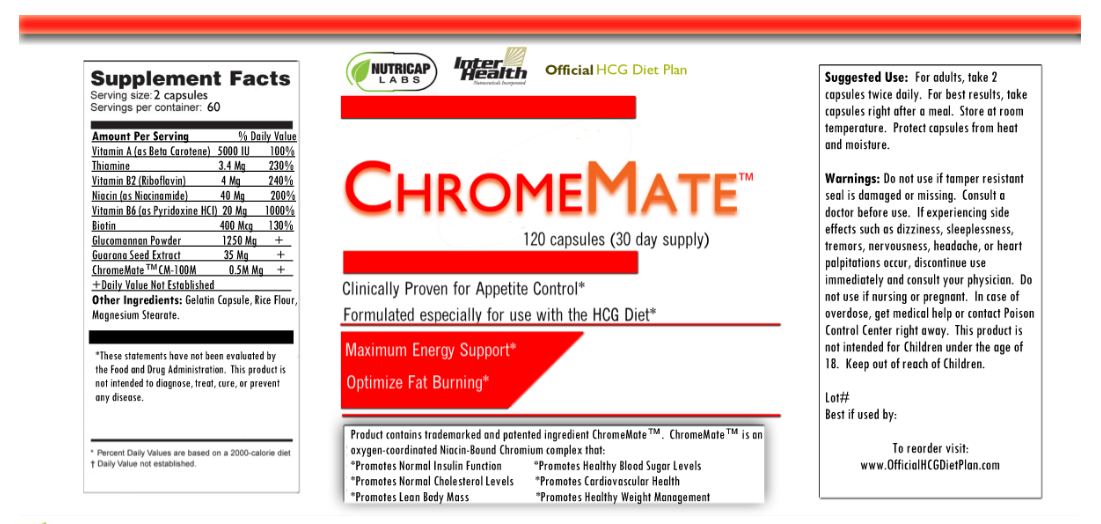 Clinically Proven For Appetite Control
Everyone's body is different and essentially our diet protocol is one of the most effective weight loss treatments on the market today.
Our body makes a significant adjustment when it switches to 500 calories and this is the perfect product to assure that the process feels 100% natural.
It is a new all-natural formula that is receiving rave reviews for addressing the multiple factors that can lead to healthy weight loss.
Its proprietary blend of potent natural ingredients has been shown in controlled clinical trials to boost fat burning, improve fat metabolism, convert protein into lean muscle, and turn sugar into an available energy source.
Remarkably, it has shown evidence to even block the absorption of up to 25% of dietary fat when taken with meals.
Some weight loss products contain synthetic chemicals that pose the risk of uncomfortable or embarrassing gastrointestinal side effects.
Those side effects do not accompany this product. There are no reported side effects of ChromeMate™ since it is formulated from safe, natural ingredients that also provide valuable dietary nutrients.
This product is clinically proven to help amplify every aspect of the HCG Diet Protocol.
Whether it is to further suppress appetite, or provide energy support.
Look no further for all the support needed for you to succeed!
Buy Now ChromeMate
ChromeMate: Multivitamin & Appetite Suppressant (30-Day)