How To Create A Fantastic Website In 2020 – The Smart Way
HOW TO CREATE A FANTASTIC WEBSITE IN 2020 – THE SMART WAY
Do you know that you can make a website without spending too much?
Cross out the hiring of a web-designer in your list this time because I am going to show you how to  create a website the smart way.
Many people out there like you are always wanted to create website but they always thought it is so expensive to have one.
Well, not true. With the method that I am going to show you, you will be amazed on how easy and how cheap it is to have a website.
Affordable and Reliable Hosting Plan Plus Free Web Templates For Your Website
Hosting companies are always competing. They are always looking for an offer that will lead a client to them.
Some are offering a bigger space or a less expensive plan but the other hosting company heard about it so they have to come up with a better promo.
A bigger space, less expensive plans, and a Free Website Templates. As always, the consumer/costumer always benefit the most.
Cross out the hiring of the web designer in your list because you don't need them anymore. Just download the free templates that comes in your paid hosting plan and modify it yourself.
They have a bunch of professionally made premium quality templates in different categories that are easy to modify.
Just open it and edit with your favorite editor like Adobe Dreamweaver or Microsoft Frontpage. Sign up at hosting companies that offer free templates.
Website – A Single Template or A Package – Which one do you prefer?
There are websites out there that offer you to purchase only for a membership and you can access all the templates and banners and even logos. They have a package set of templates that you can download without any limits.
With just the cost of a single template you can have unlimited downloads of templates that you can use for your personal website or even for your clients website if you plan to make it for profit.
The best part of this is that it comes with a resell rights. That means you can resell all the templates that you have. With a single template, you are limited to a certain number of website.
How to create a website in a smart way is no longer a question in your mind. I am sure you will have your website standing as it was made professionally by a web designer and they will assume you have spend a lot of money on it.
If only they know that you spend money only from the hosting company and had never hired a web-designer that's why you were able to saved 3/4 of your whole budget.
If they only know that you can buy hundreds of templates with a price of only one template from other sites.
I suggest when you purchase your hosting to get the plan with unlimited domain. The next time you will create a website the only thing that you will pay is your domain name.
No need to buy a single template every time you make a website. You already have hundreds of it.
Businesses would like a provider they can afford but also rely on. As the saying goes, "you get what you pay for".
They should have an in-house support department and not outsource people. In-house support plus high quality hardware can cost a lot. So companies have to make sure to get the best provider for their money.
They can compare the features offered by each provider as well as their fees before deciding on one.
Focus on their Specialties
Every website has its own needs that not all web hosting providers will be able to address. So, businesses have to first evaluate their needs whether they are small blog, developing or are already established.
It is important to be aware of their present and future needs so that they will decide on choosing the best web hosting provider.
Providers have their own strengths and weaknesses If they have any questions in mind, they should contact the provider to get the answers they need. They should list down their questions and take note of the answers.
They should not hesitate to call the provider in case they have other questions. An ideal web hosting provider would be more than willing to answer the questions of their clients.
Features and Limitations
They should determine the things they want and the goal of their site. Those with a simple blog requires fewer features compared to an eCommerce site.
Some site features a lot of RAM, sufficient processing power as well as disk space to be able to function efficiently for the company and its customers. Most cheap sites do not meet such requirements.
Companies should list down their requirements and also think about their future needs. They should see to it that the provider they are considering meets their needs or even better, exceed them.
They should remember their needs when it comes to additional domains, backups and support, among others. They should see the provider as their partner in growth.
Technical Support
It is important that their provider as well as support department has a good reputation. In this regard they are sure that they can be able to talk to a real person anytime no matter what.
Majority of providers give multiple support levels including email, live chat and toll-free phone, to name a few. They should see to it that the provider has an in-house support department and is not outsourced to another party.
They should make sure that the provider prioritizes customer support.
Other things need to be considered in addition to the above-mentioned four.
The moment they find the providers that meet their requirements, the items below will allow them to narrow down their choices.
Features and Add-ons
When they have shortlisted their choices, it is time to decide on the provider that stands out from the rest.
What are the add-ons they offer?
Do they make it easy for a newbie to set up a website?
Do they give credits to advertise with Yahoo and Google Ads?
Do they come with multi data centers, make use of Green energy and provide regular data backups?
Do they let them pay for domain privacy or does it come with a price?
At times, the choice of a provider depends on a gut feel or someone else's recommendation.
Web Hosting
Do you need a reliable web hosting company?
I highly recommend SiteGround Hosting services for your website hosting
The other reliable web hosting company is Bluehost – The Best Web Hosting
Another impressive web hosting company is Namecheap
A whole month of epic deals on top business essentials on Namecheap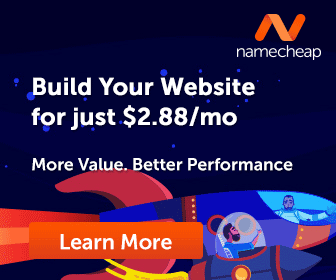 Create Your Professional Website