Best Nutrigo Lab Burner In 2021
GET FIT AS EASILY AS YOU CAN!
NUTRIGO LAB BURNER INCLUDES INGREDIENTS THAT SUPPORT:
Reduction of fat tissue

Inhibition of new fat cells creation

An optimal level of blood sugar

Faster metabolism of carbs

Appetite reduction
Nutrigo Lab Burner Description
Nutrigo Lab Burner is a food supplement addressed to persons who want to lose weight and shape their figure.  The product contains 6 ingredients, which are considered to be natural fat tissue reducers.
The Nutrigo Lab Burner food supplement is especially recommended for athletes who want to quickly lose excess kilograms and expose their muscles.
It is a modern formula designed to help you burn fat. It is equally suitable for active competitors and for amateurs.
Nutrigo Lab Burner is a multi-ingredient food supplement supporting weight loss. The patented citrus fruit extract and guarana SINETROL® Xpur contribute to the reduction of stored fat and supports the metabolism of carbohydrates.
Turmeric supports fat metabolism, while hydroxycitric acid from garcinia cambogia extract inhibits its formation and storage.
Thanks to the chromium content, the supplement helps maintain proper blood sugar levels which can reduce snacking.
HOW DOES NUTRIGO LAB BURNER WORK?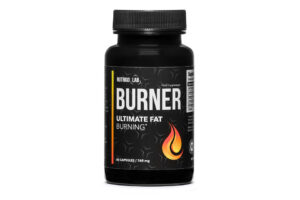 The unique combination of active ingredients in these capsules makes sure that all of the elements important for reducing the fat tissue in your body have as much effect as possible.
These ingredients include BioPerine®, Citrin®, Raspberry Extract and SINETROL® Xpur. All of these ingredients serve a specific purpose to produce optimal results!
Ingredients
SINETROL® Xpur – Patented Citrus and Guarana Extracts [Grapefruit Extract (Citrus paradisi L.),
Guarana Seed Extract (Paullinia cupana Kunth),
Orange Extract (Citrus sinensis L. Osbeck)] [20% Flavones]; Capsule Shell – Gelatin;
Garcinia Cambogia Fruit Extract – Citrin® (Garcinia cambogia) [50% HCA];
Raspberry Fruit Extract (Rubus idaeus)  [50% Raspberry Ketones];
Anti-Caking Agent – Magnesium Salts of Fatty Acids;
Curcuma Longa Rhizomes Extract (Curcuma longa) [90% Curcuminoids];
Black Pepper Fruit Extract – BioPerine® (Piper nigrum L.) [95% Piperine];
Colours – Iron Oxides and Hydroxides, Titanium Dioxide, Azorubine*;
Chromium Picolinate.
* May have an adverse effect on activity and attention in children.
WHY SHOULD YOU USE NUTRIGO LAB BURNER?
THIS SUPPLEMENT WILL HELP YOU NOT ONLY BURN YOUR FAT TISSUE, BUT IT WILL ALSO HELP REGENERATE YOUR MUSCLES AFTER HEAVY WORKOUTS! IT HELPS YOU ACHIEVE OPTIMAL RESULTS BY REPLENISHING ENERGY WITHOUT STORING IT IN YOUR BODY AS FAT!

IT IS A FOOD SUPPLEMENT DESIGNED FOR ACTIVE COMPETITORS IN ALL KINDS OF SPORTS, DEMANDING DIFFERENT PHYSIQUE.

IT IS IDEAL HELP FOR WEIGHT REDUCTION PERIODS, OFFSEASON WORKOUTS, OR PRE-COMPETITION PREPARATIONS.
WHAT EACH CAPSULE CONTAINS?
10 mg of BioPerine®

150 mg of Citrin®

100 mg of Raspberry Extract

3000 mg of SINETROL® Xpur
One package of Nutrigo Lab Burner contains 60 capsules x 760 mg (30 doses)
Directions For Use
The recommended daily allowance is 2 capsules, preferably 30 minutes before a meal or training. Drink about 300 ml of water with the formula.