Best Infrared Thermometer In 2021
Best Infrared Thermometer: A Safer Way to Check Body Temperatures
Infrared Thermometer
Medical industry always looks for refined digital prototypes and innovative ideas to make the healthcare pursuits smarter and safer. The medical equipment is becoming technologically advanced, even the thermometers.
Patients who are affected with contagious viruses like SARS-COV-2 should be treated with the utmost safety and care as this type of virus quickly spreads through respiratory droplets.
The initial symptoms of COVID-19 are similar to normal Fever and in this particular case, putting the thermometer in the mouth is not a good idea. It can make both the healthcare workers and other patients vulnerable to the virus.
The non-contact thermometer is the solid solution in this case and its practice should be alternated to regular thermometers in this critical pandemic situation.
What Is Infrared Thermometer?
Infrared Thermometer is generally known as a non-contact thermometer and it is the safest way to measure the temperature of the COVID-19 patients.
This thermometer is actually a laser temperature gun that measures and shows temperature readout on it after scanning parts of an object or skin section with its built-in laser.
The biggest advantage of using this infrared thermometer is that it can be used from a bit of a distance to evaluate the body heat.
Using this laser thermometer is way safer than using the regular thermometer that needs to be a stick in the mouth or ear. Unlike a regular thermometer, this type of smart thermometer tests body temperature by sensing the infrared heat emitted by the body.
This thermometer is the ideal medical tool especially in the cases of contagious viruses as it excludes physical contact and lets the medical practitioner maintain moderate distance from the inmate.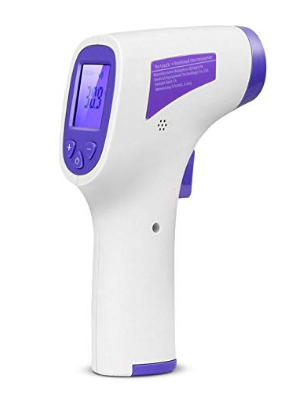 Description of IR12 Laser Temperature Infrared Thermometer
IR12 is one of the best Infrared Thermometers and it has been a Reddot Award winner in 2019. This Laser Temperature Thermometer comes with outstanding features. It has a green Segment LCD display with four colours LED backlight (White, Green, Orange, and Red).
The temperature units can be switched between °C and . The DC 3V power supply range of this thermometer is AAAX2.
The measurement range for the forehead is 32.0°C–42.9°C (95°F–109°F) and for the ear is 32.0°C–42.9°C (95°F–109°F). For object heat measurement, its measurement range is 0°C–100°C (32°F–199°F). This laser temperature gun gives the laboratory level of accuracy.
The memory capacity of the tool is 40 groups of the measured temperature. This thermometer can be used more than 3000 times. Like any other regular thermometer, this laser thermometer is also very portable and its weight is 93g (with battery).
Other Essential Specifications
Dimension:5×40×41mm

Object Mode: ±1.0°C/2.0°F

Display Resolution: 1/

Automatic shutdown: 10s±1s

Operational conditions: Humidity: 15-95%RH, and Temperature: 10-40 (50 -104 )

Storage Condition: Ambient Temperature: -20°C to 55°C (-4°F–131°F)Relative Humidity: 0-95% RH,

Non-condensing Atmospheric pressure: 50kPa to 106kPa

Non-condensing Atmospheric pressure: 70-106 kPa
Features of IR12 Laser Temperature Infrared Thermometer
This smart Laser thermometer comes with Automatic Mode that allows the user to switch between forehead and ear.
IR12 Non-Contact Thermometer has a Magnetic Probe Cover that determines Automatic Mode and other functions to avoid wrong measurements.
Audio Visual Fever Warning:
The thermometer comes with a Four Colored LED display that promptly sends Audio and Visual Alerts on Fever Warning.
This smart thermometer automatically recognizes the body and object temperature.
It also allows temperature tracking over time by showing the current and previous history of fever readings.
Where To Buy Laser Temperature Thermometer?
While buying the Laser Temperature Thermometer, one should consider the quality of the device as well as the credibility of the company and the manufacturer.
One can simply buy the product by ordering it online from the reliable Medical equipment manufacturers who sell licensed products. GWS Surgical LLP is one of the leading medical equipment suppliers and PPE manufacturers.
During this pandemic condition of COVID-19, they are taking orders of IR12 laser body temperature thermometer on a priority basis and delivering the stocks all around the country.
Healthcare organizations can directly make product queries by visiting their website and quote for order submission.